Hotels
There are not very many lodging options in the area, and the region tends to book up quickly for the summer months, so we highly recommend that you choose and reserve your accommodations as soon as possible. We suggest staying in the town of Cabourg, because it is one of the larger villages in the area and there are several shops, cafés, boulangeries, and even a casino to keep you entertained. Below is a list of options, several of which we have actually visited so we can give your our feedback on what might be most comfortable for you if you want to give us a call or e-mail to discuss.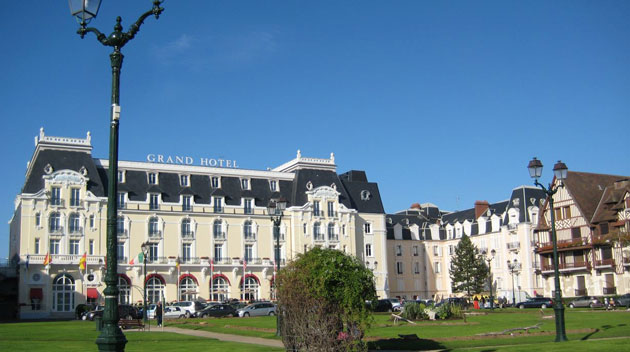 Rooms start at 130 Euros per night, and they are holding 8 rooms under Alex's name until the end of February at that price - after that it goes up to 180 Euros. The hotel is half a mile from the center of the village, but it's still walking distance or else a super quick drive. The rooms are nice and have balconies that look out to the horse track. Not very "Normandy" in feel, other than the exterior, but it is very comfortable and has all amenities such as wi-fi, gym, swimming pool, etc..
1,2 & 3 bedroom "residences", all of which have a kitchenette. Breakfast is included, and there is also a swimming pool. The rooms are very basic, but clean and the hotel is in a great location. It is just a block off of the center of the village - easy walking distance to all the shops, restaurants, boulangeries, etc. They are holding a block of rooms under Alex's name at a 15% discount until the end of February.
We haven't seen the rooms as they were closed in January when we were scoping out the region. However, it looks like a quaint hotel with lots of charm in a convenient location... two blocks from the beach.
Very basic rooms at a very reasonable price - this hotel is located exactly between Dives Sur Mer (where we are having the Saturday dinner) and Cabourg. The place is very clean, and has free wi-fi. Note that all rooms have a regular + a bunk bed.
This is the luxury hotel in Cabourg, and it's right on the beach. The rooms are very nice, with the option to be facing the sea or the main park. Best of all it is right next to the casino.
We weren't able to see the rooms here either, because it was closed for the season. This is in Houlgate, which is a couple of miles away from Cabourg.
This link should take you to all other options in Cabourg.