Three days...
Friday, June 22
We don't have anything officially planned for the Friday before the wedding; however, we would love to spend time with any of you who will already be in town and settled by then. We were thinking of doing a Calvados tasting at a local cave (wine cellar) on Friday afternoon for anyone who is interested. If you're not familiar with it then you should definitely try it, especially considering that you will actually be staying in Calvados, and this is the apple brandy that bears the name of the region. And if there is anything in particular that you would like to do on Friday afternoon or evening, perhaps we can make a recommendation. We will also keep you posted if any plans come up for that evening.
Saturday, June 23
We will be married at the Mairie de Caen on Saturday, June 23, at 4:15 p.m. Caen is about a 30 minute drive from Cabourg, the seaside town where you will most likely be staying. We would like for everybody to arrive no later than 3:30 to be sure that we are all ready and waiting when they call us in to the Mairie. The ceremony will be brief (15 minutes or less), and afterward we are hoping to take some group photos before heading back to the coast.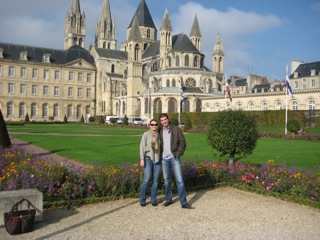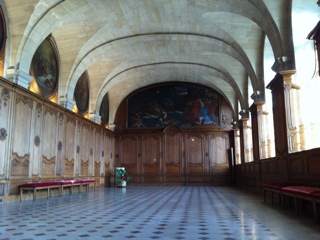 You will have time to freshen up and/or relax before we all meet up again for dinner at 7:30 p.m. The dinner will be held at quaint restaurant called L'écurie de Guillaume located in Dives sur Mer, which is between Cabourg and Houlgate. The village of Dives sur Mer dates back to the 12th century, and the restaurant has an interesting history, as well. The building that Lécurie de Guillaume is in used to be stables that were used as a stopping post for the postal service, where they would let their horses rest for the night. We'll have the place all to ourselves until 2:00 a.m., so be ready to eat, drink and (hopefully) dance until the wee hours!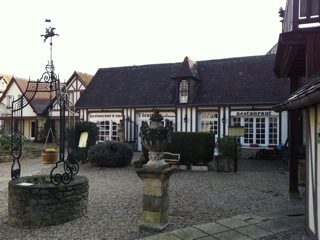 Sunday, June 24
The following day, June 24, we are planning a very informal brunch at Alex's family's house in Houlgate. We're expecting the wedding night festivities to go pretty late, so we didn't want to plan anything too early. We will let you know exact timing once we are closer to the date. We thought it would be nice for us to all get together again on Sunday to eat (more), drink (more) and just hang out. Hopefully the weather will be nice and we can just relax in the yard and enjoy a final leisurely afternoon together.