Some things to see and do in Normandy
If you are not familiar with the region, you might enjoy reading this NY Times article that describes "Normandy's Quiet Glamour". It gives a good overview of the area and might be interesting to read as you start planning your visit. There is so much history in the region, from William the Conqueror to the WWII occupation and the landing on the D-Day beaches, so if you have the time you should definitely take in some of the sights. Here are just a few suggestions:
Drive
Take a scenic drive along la Cote Fleurie from Cabourg through Deauville, Trouville and all the way out to Honfleur. It is a beautiful drive, and you'll enjoy all of the little towns along the way.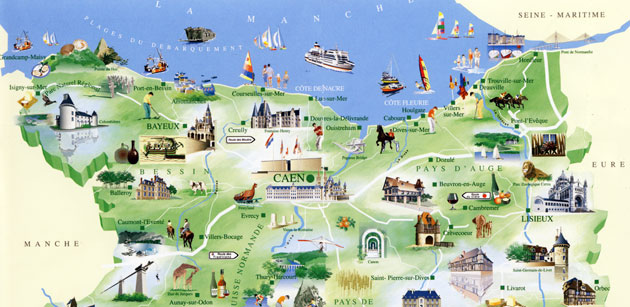 Click to enlarge
Taste
Calvados tasting and distillery tour at Chateau du Breuil - about a 30 minute and very picturesque drive from Cabourg
Must
D-Day Beaches, American Cemetery & Memorial - you can get an overview here.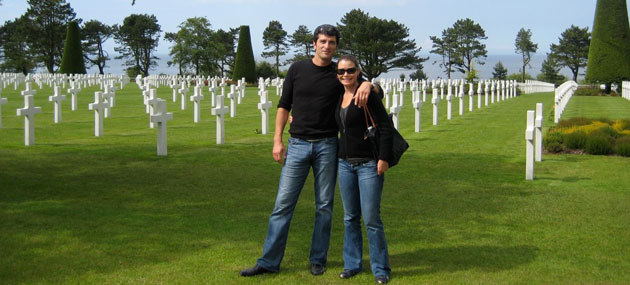 In Caen
Caen is known for its historical buildings built during the reign of William the Conqueror, who was buried here, and for the Battle for Caen—heavy fighting that took place in and around Caen during the Battle of Normandy in 1944, destroying much of the town. So if you are still thirsty for some WWII information, go to the Mémorial de Caen Museum which is THE museum for it.
Also notable are the remains of the castle, built circa 1060 by William the Conqueror. You can't miss it as it is prominently located downtown. The entry is free and it makes for a wonderful walk.
A little further away ... but well worth it
If you have the time, and this is your first time in the region, do not leave without a visit to Mont Saint Michel!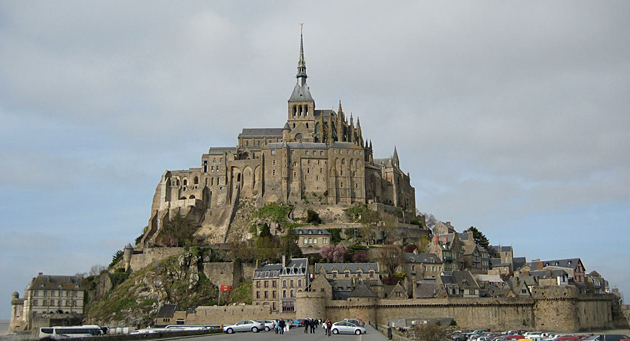 Of course, there is plenty more to see in Normandy. Here are a set of additional useful links:
Information on the region of Calvados: http://calvados-accueil.com
Info on the city of Caen: http://www.tourisme.caen.fr/anglais/index.asp
More info on the town of Cabourg: http://www.cabourg.net/
More info on the village of Houlgate: http://www.ville-houlgate.fr/web/discover_houlgate.html
More info on the village of Dives-sur-mer: http://www.dives-sur-mer.fr/
Let us know what you are interested in seeing and we'll be more than happy to advise and/or help you organize any other sightseeing you are interested in doing. In the meantime, here is a good resource for you to check out.